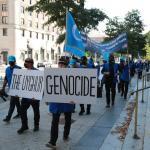 "The stain of the century in human rights violations is taking place in Western China today" (secretary of state Micheal R. Pompeo, 2020)
For the first time in history, the United Nations (UN) made a serious allegation against the Chinese government, raising tensions between Western powers and Beijing regarding the Uyghurs in Xinjiang. As a result, many have now begun to wonder whether China indeed has violated fundamental "Human Rights" against minority groups.
CHINESE VALUES AND PERSPECTIVES
The Chinese culture strongly tends toward "collectivism," which strongly emphasizes a shared culture. China is also known for its rather unique hierarchical order. According to (Gong Xiang Rui, 1933), the state regards itself as supreme; the collective comes second, and the individual last. These two elements show that Chinese culture and hierarchy differ entirely from Western individualism, which encourages individuals to act independently.

China's current governing party is The People's Republic of China (PRC). Due to the position of the (PRC), based upon a former totalitarian ideology. This means that the (PRC) nowadays holds an absolute grip over its citizens and is, therefore, able to deprive citizens of certain religions, beliefs, and opinions, which is supported by using dystopian state-backed surveillance installations throughout the nation which monitor people. These points explain why Chinese ethics and morality, in general, are low. As they solely rely on totalitarian ideology.
HISTORY OF XINJIANG
On the 1st of October 1949, the founding and sole ruling party led by Mao Zedong, formerly known as the Chinese Communist Party (CCP), was founded as the (PRC). In 1949 The newly launched (PRC) succeeded in annexing Xinjiang. During this time, the Xinjiang population comprised approximately 76% of Uyghurs. At the same time, the country's majority group consisted of 6,2%.

The annexation of Xinjiang has caused a significant statistical change. Because the majority group of China's "Han group" has migrated to this region, resulting in the regional population nowadays consisting of 40% Han and 42% Uyghurs. This can be aligned with the brutal suppression in the 1980s and '90s.  
BUT WHO EXACTLY ARE THE UYGHURS?
The Uyghurs are a Muslim minority group in the region of Xinjiang, a strictly controlled area in the North-Western part of China. This group is being oppressed and discriminated against by the Chinese government, which views them as "obstacles." Therefore, more than a million Uyghurs and other minority groups are being persecuted and detained in so-called "re-education camps."
WHEN DID THESE PERSECUTIONS START?
According to experts and government officials, the systematic persecution and detaining of Uyghurs and other minority groups in China has occurred since April 2017.

According to the leader of the (CCP.) Xi Jinping. "the party exercises overall leadership over all areas of endeavor in every part of the county." (Xinhua News Agency, 2018) This explains why the (CCP) has held such a grudge against the Uyghurs and other minority groups. This can be aligned with the Communist Party's Great Leap Forward (1958-1962), in which China already viewed ethnicity and religion as "obstacles."
WHAT DOES THE ALLEGATION SAY?
The recent (UN) allegation, based upon the recent report of a UN Human Rights commissioner, Michelle Bachelet, on the 31st of August, claims that there are several plain cases of crimes against humanity committed by the Chinese government. This can be confirmed due to the vast number of foreign reports. Despite these reports, China, however, keeps denying that these camps exist.

The UN report concludes the following allegations: systematic discrimination, arbitrary mass detention, torture, and sexual and gender-based violence. Which are severe violations in the field of "Human Rights." (Patrick Wintour, 2022)
WHAT IS TO BE PERCEIVED FROM THIS?
While media freedom in China is rapidly declining by trying to silence those who report the problematic situation. It becomes clear through several heroical journalists' reports that something fishy is going on in Xinjiang, especially since there are no findings or mentions by Chinese media about the mentioned reports inside the country.

Several other reports also claim that most people detained in the camps do not have any criminal background whatsoever. Instead, people are indiscriminately targeted for their background, beliefs, and contacts. On top of that, it seems that the relatives of those detained are not being informed about their status.

Thus, the people of China and all its inhabitants deserve a government that respects "Fundamental Human Rights" and acts under international laws and freedoms. Therefore it becomes clear that outside countries have to intervene in the events occurring in Xinjiang.
Sources:

Deepening the Reform of Party and State Agencies. Retrieved 10 18, 2022, from Center for Security and Emerging Technology: https://cset.georgetown.edu/publication/ccp-central-committee-publishes-plan-for-deepening-the-reform-of-party-and-state-agencies/
Wintour, P. (2022, 09 19). West weighs calling for China Uyghur abuses inquiry at UN. Retrieved 10 12, 2022, from The Guardian: https://www.theguardian.com/world/2022/sep/19/west-un-china-uyghur-abuses-inquiry-human-rights-council
United Nations. (2021, 06 28). China: Human rights defenders given long jail terms, tortured – UN expert. Retrieved 10 12, 2022, from United Nations: https://www.ohchr.org/en/press-releases/2021/06/china-human-rights-defenders-given-long-jail-terms-tortured-un-expert
Shang, D., Liu, G., & Cao, S. (2016, 07 29). Why are Chinese ethics declining? Retrieved 10 12, 2022, from Sage Journals: https://journals.sagepub.com/doi/full/10.1177/0961463X16658803
Maizland, L. (2022, 09 22). China's Repression of Uyghurs in Xinjiang. Retrieved 10 12, 2022, from Council on Foreign Relations: https://www.cfr.org/backgrounder/china-xinjiang-uyghurs-muslims-repression-genocide-human-rights
Hayes, A. (2019, 02 14). Explainer: who are the Uyghurs and why is the Chinese government detaining them? Retrieved 10 12, 2022, from The conservation: https://theconversation.com/explainer-who-are-the-uyghurs-and-why-is-the-chinese-government-detaining-them-111843#:~:text=The%20Uyghurs%20are%20Turkic%2Dspeaking,%2C%20Tajiks%2C%20Kyrgyz%20and%20Hui.
Doman, M., Hutcheon, S., & Taylor, K. (2018, 10 31). China's frontier of fear. Retrieved 10 12, 2022, from ABC: Satellite images expose China's vast network of secret re-education camps in Xinjiang - ABC News
POMPEO, M. R. (2020, 06 15). Remarks to the Economic Club of New York (Hong Kong Excerpts). Retrieved 10 13, 2022, from U.S. Consulate General Hong Kong & Macau: https://hk.usconsulate.gov/n-2020071503/
Read more articles at: Articles - Center for International Relations and International Security (ciris.info)
About the author
Nikolaj Oudman
Search
Share